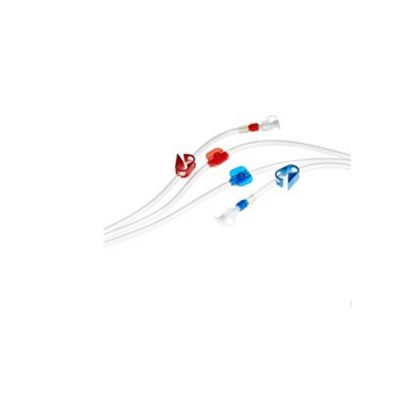 NiproSet™ Blood Tubing Set
All NiproSet™ blood tubing sets are designed to enhance safety and efficiency, with all sets individually pre-labeled based on equipment compatibility. To help ensure the quality you expect, Nipro manufactures a complete line of all tubing components, which are tested according to FDA specifications. NiproSet™ clear PVC tubing is designed to withstand pressure and manipulation without compromising flow rate accuracy and consistency, regardless of equipment used.
All NiproSet™ blood tubing sets comes with the following features:
Medications ports – large finger guard helps protect the user from accidental needle sticks; venous line features multiple medication ports for optimum versatility and choice in medication delivery.
Color coded clamps – Patient safety is enhanced with clamps that are color-coded for confident identification of the appropriate line.
Transducer protectors – clear throughout to meet CMS guidelines; engineered to maintain monitoring while decreasing exposure to the dialysis machine.
Priming set – for use with the Nipro Dose-Saver Syringe.
Drip chambers – Drip chambers feature a versatile medication port and, for an extra measure of safety, are anti-foaming to minimize splashing.
| Item No. | Description | Quantity |
| --- | --- | --- |
| A216 | Slimline 8mm | 24/CS |
| | Universal Bloodlines | 24/CS |