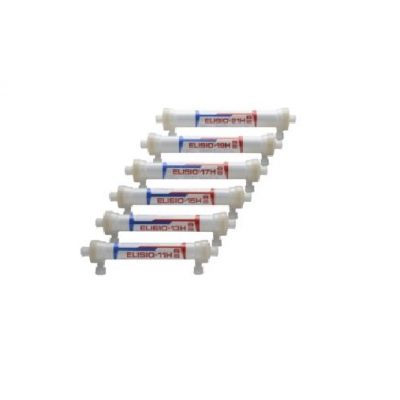 ELISIO® Dialyzer
When Nipro set out to reimagine the single use, hollow-fiber dialyzer, our goal was to evolve the new ELISIO® into a product delivering multiple, valuable advantages. Our design and engineering teams accomplished these objectives, innovating an array of powerful, practical benefits.
Our exclusive POLYNEPHRON™ membrane is designed to function more like the human kidney to deliver better clearance performance.
More homogenous pore sizes, resulting in better clearances of uremic toxins and low molecular weight proteins like β2-microglobulin and myoglobin, with limited loss of important proteins such as albumin.
Unique ripple structure inside the dialyzer creates more homogenous flow, enhancing small molecule clearances.
Ultra smooth polyurethane cut surface minimizes risk of blood cell damage and clotting, resulting in better rinseback to patients.
Improved header shape with redesigned caps to optimize blood flow dynamics.
Header caps are permanently attached, eliminating unexpected removal or reuse.
Packed 24/case
Single use, high flux dialyzer with polypropylene housing and polyethersulfone membrane
Available with 8 different surface area in m2:  0.9, 1.1, 1.3, 1.5, 1.7, 1.9, 2.1 and 2.5
| Item No. | Description | Quantity |
| --- | --- | --- |
| Dial 24 | Elisio 190 HR | 24/CS |
| Dial 23 | Elisio 150 HR | 24/CS |
| Dial 26 | ELH-17PP | 24/CS |
| Dial 25 | Elisio 190LR | 24/CS |