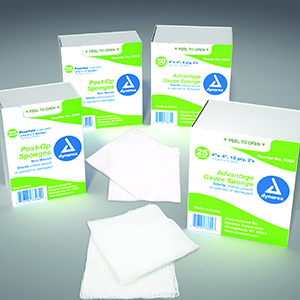 Post-op Sponge
Post-Surgical Recovery Starts with Dynarex Post-Op & Gauze Sponges
Healing begins with sterile Dynarex Post-Op Sponges. Their non-woven material offers better wicking and more absorbency than single-layer sponges.
Or choose Dynarex Advantage Gauze Sponges. They're our most economical sterile gauze sponges, available in 8-ply and 12-ply. Both sponges come in convenient sizes, sterile, and peel-down pouches for quick & easy access.
Non woven post op sponges provide superior absorption for superior patient care
| Item No. | Description | Quantity | Image |
| --- | --- | --- | --- |
| 3348 | Post-op Sponge 4Ply Sterile 2's, 4"x3", 24/25(1200/Cs) | 24/25/CS | View Image |
| 3349 | Post-op Sponge 4Ply Sterile 2's, 4"x4", 24/25(1200/Cs) | 24/25/CS | View Image |