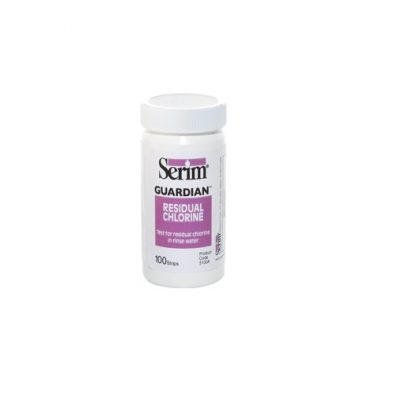 Residual Chlorine
Serim® GUARDIAN™ RESIDUAL CHLORINE Test Strips provide a rapid and convenient means for indicating the concentration of chlorine bleach (sodium hypochlorite) remaining in the solution used to rinse dialysate lines following disinfection of hemodialysis equipment.
The qualitative rapid screening method can be used to determine that chlorine has been adequately rinsed from the machine. The semi-quantitative method may be useful where corrective measures are undertaken on machines dispensing unacceptable levels of chlorine for extended periods and for testing containers, i.e., "bicarb jugs," disinfected with bleach.
Results of 0.5 ppm or above indicate that further rinsing is necessary.
TEST RANGE:
A semi-quantitative procedure provides the chlorine concentration between 0 and 5 ppm by comparing the color of the reacted indicator pad to the color chart on the bottle label. Color blocks represent chlorine concentrations of 0, 0.5, 1, 2 and 5-ppm.
A qualitative procedure provides the total chlorine concentration at or above 0.5 ppm by the appearance of any pink/purple color on the indicator pad.
| Item No. | Description | Quantity |
| --- | --- | --- |
| 5100A | Res. Chlorine Test, 6 Btls. | 6/CS |