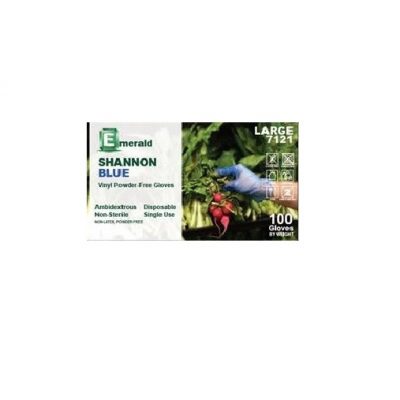 Shannon Blue Powder-Free Vinyl Exam Gloves
Shannon vinyl blue powder-free 4 mil gloves are ideal for general purpose, food service, and other non-medical uses. Designed with a distinctive blue color for ease of identification, these gloves feature a non-latex formula for potential users who suffer from latex allergies.
The comfortable Shannon vinyl blue powder-free gloves have a beaded cuff for extra strength and tear resistance. 100 gloves per dispenser box, 10 boxes per case.
| Item No. | Description | Quantity |
| --- | --- | --- |
| 7119 | Emerald Shannon Blue Powder-Free Vinyl Gloves, S | 10/100/CS |
| 7120 | Emerald Shannon Blue Powder-Free Vinyl Gloves, M | 10/100/CS |
| 7121 | Emerald Shannon Blue Powder-Free Vinyl Gloves, L | 10/100/CS |
| 7122 | Emerald Shannon Blue Powder-Free Vinyl Gloves, XL | 10/100/CS |